The Parliament of the Czech Republic, similarly to other democratic countries, is obliged to publish open data. Favorably for analysts, they do so on a very granular level. Individual votes of every parliament member are recorded and made available to the public for further analysis. This article describes how we processed the Parliament voting data and made its members engaged.

The initial idea of creating a public portal kuloary.cz analyzing and clearly presenting parliament members behavior was driven by our will to showcase how we can do analytics that differ and matter.
We decided to process the open data of the Czech Parliament on a daily basis and turn them into interactive dashboards revealing patterns coming from attendance and individual voting throughout the current election period.
Multiple Power BI dashboards backed by MS SQL Server data mart compare the members' attendance rate, valid voting rate, party coherence rate and other. Figures can be analyzed globally or with regard to a specific political party.
From website visits we saw that people are mostly interested in the "attendance at work". Which is a pretty basic metric, yet it seems to be very important for the general public.
Later on we met several Parliament members to collect feedback on Kuloary and to hear their perspective. The discussion has been very constructive because we could compare in detail the internal Parliament reporting with our findings. A rich backlog for further development emerged, but what was important, we validated the figures.
The most surprising moment however was when we learnt that Kuloary was being regularly used by many parliament members themselves as an extension to the existing, one could say basic, Parliament reporting. We learnt that politicians refer to Kuloary in their online campaigns, internal newsletters and even in TV. That's been very satisfying for us as authors. And the regular website visit rate just confirms that.
A passionate analyst though doesn't stop in such a moment and digs deeper. We looked for indications of impact on politicians knowing they were being observed more thoroughly than ever. One of the parameters we measure in time is the Valid Voting Rate. It is the number of cases when members validly voted YES or NO compared to the number of votings.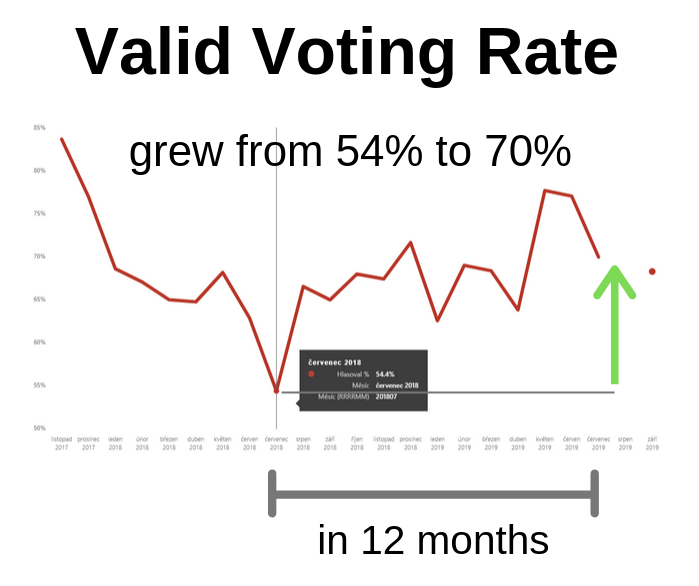 In other words – it seems that the parliament members became more reluctant to abstain from voting. It is hard to argue whether that is a coincidence or not. Nevertheless we could observe that since the release of Kuloary portal in July 2018 the Valid Voting Rate grew from approx 54% to 70% within 12 months.
Legally it has no impact whether a member votes NO/against or abstains from voting. But the NO also means that the politician made a decision and intentionally expressed his/her opinion. It is a sign of a"response-ability", which is the true meaning of responsibility. Thus we can conclude that once the Czech parliament members realized that they were being analyzed, their behavior changed towards a higher responsibility.
Let the case be an inspiration for other democratic countries and a study of how a behavior exposure can eventually trigger responsibility.